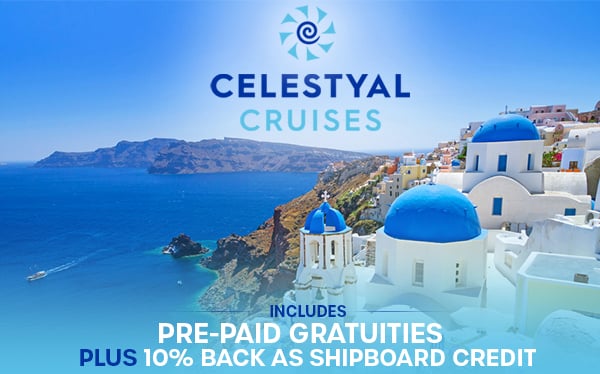 Celestyal Cruises Cruise Deals
Promotion Expires: Friday, October 6, 2023
Not valid with any other promotion or discount
New Bookings Only
800-493-6609
Book virtually any new Celestyal cruise
during our sale and receive:

Pre-Paid Gratuities


(included in Celestyal Voyages)



PLUS,
A Shipboard Credit perk in the amount of 10%
of the cruise rate, compliments of CruCon
(rounded down to nearest $25 increment, based on first and
second guest only and does not include taxes, fees, and port expenses)
(FOR NEW BOOKINGS ONLY, SORRY NO EXCEPTIONS)

Terms & Conditions Minimum cabin cost applies. Shipboard credit is per stateroom, based on cruise length and category booked. Shipboard credit has no monetary value and is non-transferable. It may not be used toward onboard service charges or repurchased activities. Onboard Credit is applied to the 1st and 2nd guest on the reservation. Singles paying 200% are entitled to full shipboard credit value. Reduced Single supplements under 200% may receive reduced amenities. Cancellation fees also apply based on the booking/sailing date. Shipboard Credit is a combined total from CruCon and the cruise line and is based on double occupancy. Portions of shipboard credit may not be used for onboard service charges. Some restrictions apply. All advertised pricing and amenities are in US Dollars.

Any referenced onboard credit mentioned throughout the online booking process is factored into the above mentioned offer and is not in addition to the offer listed above.
Celestyal Journey
Celestyal Journey - 7 Nt. Greece
RT Athens
(Athens(Piraeus)/GREECE, Thessaloniki/GREECE, Kusadasi(Ephesus)/TURKEY, Crete,
Santorini(Thira)/GREECE (Overnight), Mykonos/GREECE (Overnight), Athens(Piraeus)/GREECE)
DATE
INSIDE
OCEANVIEW
JUNIOR
SUITE
SUITE
CALL
800-493-6609
or
BOOK IT NOW
04/06/24
$889 pp
$1039 pp
$1519 pp
$1959 pp
04/13/24
$959 pp
$1039 pp
$1519 pp
$1959 pp
04/20/24
$959 pp
$1039 pp
$1609 pp
$1959 pp
04/27/24
N/A
$1039 pp
N/A
$1959 pp
05/04/24
N/A
$ 1329 pp
N/A
$1959 pp
05/11/24
$1029 pp
$1189 pp
$1759 pp
N/A
05/18/24
$1029 pp
$1189 pp
$1609 pp
$1959 pp
05/25/24
$1029 pp
$1189 pp
$1609 pp
N/A
06/01/24
$1289 pp
$1469 pp
$1909 pp
$2539 pp
06/08/24
$1289 pp
$1469 pp
$2039 pp
N/A
06/15/24
$1509 pp
$1579 pp
$2099 pp
$2839 pp
06/22/24
$1389 pp
$1579 pp
N/A
$2839 pp
06/29/24
$1289 pp
$1469 pp
$1909 pp
$2539 pp
07/06/24
$959 pp
$1039 pp
$1609 pp
$1959 pp
07/13/24
$889 pp
$1039 pp
$1519 pp
$1959 pp
07/20/24
$889 pp
$1039 pp
$1519 pp
$1959 pp
07/27/24
$889 pp
$1039 pp
$1519 pp
$1959 pp
08/03/24
$889 pp
$1039 pp
$1519 pp
$1959 pp
08/10/24
$959 pp
$1039 pp
$1519 pp
$1959 pp
08/17/24
$889 pp
$1039 pp
$1519 pp
$1959 pp
08/24/24
$889 pp
$1039 pp
$1519 pp
$1959 pp
08/31/24
$959 pp
$1039 pp
$1519 pp
$1959 pp
09/07/24
$1349 pp
$1469 pp
$1909 pp
$2539 pp
09/14/24
$1389 pp
$1579 pp
$2249 pp
$2839 pp
09/21/24
$1389 pp
$1579 pp
$2099 pp
$2839 pp
09/28/24
$1289 pp
$1469 pp
$1469 pp
$2539 pp
10/05/24
$1399 pp
$1469 pp
$1909 pp
$2539 pp
Celestyal Journey - 14 Nt. Greece
RT Athens
(Athens(Piraeus)/GREECE, Thessaloniki/GREECE, Kusadasi(Ephesus)/TURKEY, Crete, Santorini(Thira)/GREECE
(Overnight), Mykonos/GREECE (Overnight), Athens(Piraeus)/GREECE, Thessaloniki/GREECE, Kavala/GREECE,
Istanbul/TURKEY, Kusadasi(Ephesus)/TURKEY, Patmos/GREECE, Athens(Piraeus)/GREECE)
DATE
INSIDE
OCEANVIEW
JUNIOR
SUITE
SUITE
CALL
800-493-6609
or
BOOK IT NOW
10/05/24
N/A
N/A
N/A
N/A
Celestyal Journey - 14 Nt. Greece
RT Athens
(Athens(Piraeus)/GREECE, Thessaloniki/GREECE, Kavala/GREECE, Istanbul/TURKEY, Kusadasi(Ephesus)/TURKEY,
Patmos/GREECE, Athens(Piraeus)/GREECE, Cairo(Port Said)/EGYPT, Jerusalem(Ashdod)/ISRAEL,
Limassol/CYPRUS, Rhodes/GREECE, Kusadasi(Ephesus)/TURKEY, Athens(Piraeus)/GREECE)
DATE
INSIDE
OCEANVIEW
JUNIOR
SUITE
SUITE
CALL
800-493-6609
or
BOOK IT NOW
10/12/24
$1799 pp
$2409 pp
N/A
N/A
Celestyal Journey - 7 Nt. Greece
RT Athens
(Athens(Piraeus)/GREECE, Thessaloniki/GREECE, Kavala/GREECE, Istanbul/TURKEY,
Kusadasi(Ephesus)/TURKEY, Patmos/GREECE, Athens(Piraeus)/GREECE)
DATE
INSIDE
OCEANVIEW
JUNIOR
SUITE
SUITE
CALL
800-493-6609
or
BOOK IT NOW
10/12/24
$1389 pp
$1849 pp
$2249 pp
$2839 pp
Celestyal Journey - 7 Nt. Greece
RT Athens
(Athens(Piraeus)/GREECE, Cairo(Port Said)/EGYPT, Jerusalem(Ashdod)/ISRAEL,
Limassol/CYPRUS, Rhodes/GREECE, Kusadasi(Ephesus)/TURKEY, Athens(Piraeus)/GREECE)
DATE
INSIDE
OCEANVIEW
JUNIOR
SUITE
SUITE
CALL
800-493-6609
or
BOOK IT NOW
03/02/24
N/A
$969 pp
$1609 pp
N/A
03/09/24
$889 pp
$1109 pp
$1519 pp
$1959 pp
03/16/24
N/A
$ 1039 pp
N/A
$1959 pp
10/19/24
$1289 pp
$1469 pp
$1909 pp
$2539 pp
11/23/24
$959 pp
$1039 pp
$1609 pp
$1959 pp
11/30/24
$889 pp
$1039 pp
$1519 pp
$1959 pp
12/07/24
$889 pp
$1039 pp
$1519 pp
$1959 pp
12/14/24
$889 pp
$1039 pp
$1519 pp
$1959 pp
12/21/24
$1289 pp
$1469 pp
$1909 pp
$2539 pp
12/28/24
$1289 pp
$1469 pp
$1909 pp
$2539 pp
Celestyal Journey - 21 Nt. Greece
RT Athens
(Athens(Piraeus)/GREECE, Cairo(Port Said)/EGYPT, Jerusalem(Ashdod)/ISRAEL, Limassol/CYPRUS, Rhodes/GREECE, Kusadasi(Ephesus)/TURKEY, Athens(Piraeus)/GREECE, Santorini(Thira)/GREECE, Rhodes/GREECE, Istanbul/TURKEY (Overnight), Chios/GREECE, Kos/GREECE, Mykonos/GREECE, Athens(Piraeus)/GREECE, Kotor/MONTENEGRO , Corfu/GREECE, Chania(Souda), Athens(Piraeus)/GREECE)
DATE
INSIDE
OCEANVIEW
JUNIOR
SUITE
SUITE
CALL
800-493-6609
or
BOOK IT NOW
03/16/24
N/A
N/A
N/A
N/A
10/19/24
$1989 pp
$2199 pp
$3709 pp
N/A
Celestyal Journey - 16 Nt. Greece
RT Athens
(Athens(Piraeus)/GREECE, Cairo(Port Said)/EGYPT, Jerusalem(Ashdod)/ISRAEL, Limassol/CYPRUS, Rhodes/GREECE, Kusadasi(Ephesus)/TURKEY, Athens(Piraeus)/GREECE, Santorini(Thira)/GREECE, Rhodes/GREECE, Istanbul/TURKEY (Overnight), Chios/GREECE, Kos/GREECE, Mykonos/GREECE, Athens(Piraeus)/GREECE)
DATE
INSIDE
OCEANVIEW
JUNIOR
SUITE
SUITE
CALL
800-493-6609
or
BOOK IT NOW
03/16/24
N/A
N/A
N/A
N/A
10/19/24
$1569 pp
$1679 pp
$2859 pp
N/A
Celestyal Journey - 14 Nt. Greece
RT Athens
(Athens(Piraeus)/GREECE, Santorini(Thira)/GREECE, Rhodes/GREECE, Istanbul/TURKEY (Overnight), Chios/GREECE, Kos/GREECE, Mykonos/GREECE, Athens(Piraeus)/GREECE, Kotor/MONTENEGRO ,
Corfu/GREECE, Chania(Souda), Athens(Piraeus)/GREECE)
DATE
INSIDE
OCEANVIEW
JUNIOR
SUITE
SUITE
CALL
800-493-6609
or
BOOK IT NOW
03/23/24
$1919 pp
$2079 pp
$2659 pp
N/A
10/26/24
$1799 pp
$2079 pp
$2659 pp
$3449 pp
03/23/24 Celestyal Journey - 21 Nt. Greece
RT Athens
(Athens(Piraeus)/GREECE, Santorini(Thira)/GREECE, Rhodes/GREECE, Istanbul/TURKEY (Overnight),
Chios/GREECE, Kos/GREECE, Mykonos/GREECE, Athens(Piraeus)/GREECE, Kotor/MONTENEGRO ,
Corfu/GREECE, Chania(Souda), Athens(Piraeus)/GREECE, Thessaloniki/GREECE, Kusadasi(Ephesus)/TURKEY,
Crete, Santorini(Thira)/GREECE (Overnight), Mykonos/GREECE (Overnight), Athens(Piraeus)/GREECE)
Inside: N/A
Oceanview: N/A
Junior Suite: N/A
Suite:
N/A

Celestyal Journey - 9 Nt. Greece
RT Athens
(Athens(Piraeus)/GREECE, Santorini(Thira)/GREECE, Rhodes/GREECE, Istanbul/TURKEY (Overnight),
Chios/GREECE, Kos/GREECE, Mykonos/GREECE, Athens(Piraeus)/GREECE)
DATE
INSIDE
OCEANVIEW
JUNIOR
SUITE
SUITE
CALL
800-493-6609
or
BOOK IT NOW
03/23/24
$979 pp
$1049 pp
$1849 pp
N/A
10/26/24
$779 pp
$1049 pp
$1849 pp
$2419 pp
Celestyal Journey - 5 Nt. Greece
Athens to Istanbul
(Athens(Piraeus)/GREECE, Santorini(Thira)/GREECE, Rhodes/GREECE, Istanbul/TURKEY (Overnight))
DATE
INSIDE
OCEANVIEW
JUNIOR
SUITE
SUITE
CALL
800-493-6609
or
BOOK IT NOW
03/23/24
$549 pp
$679 pp
$1189 pp
N/A
10/26/24
$549 pp
$679 pp
$1189 pp
$1679 pp
Celestyal Journey - 4 Nt. Greece
Istanbul to Athens
(Istanbul/TURKEY, Chios/GREECE, Kos/GREECE, Mykonos/GREECE, Athens(Piraeus)/GREECE)
DATE
INSIDE
OCEANVIEW
JUNIOR
SUITE
SUITE
CALL
800-493-6609
or
BOOK IT NOW
03/28/24
$519 pp
$559 pp
$989 pp
$1379 pp
10/31/24
$459 pp
$559 pp
$989 pp
$1379 pp
04/01/24 Celestyal Journey - 12 Nt. Greece
RT Athens
(Athens(Piraeus)/GREECE, Kotor/MONTENEGRO , Corfu/GREECE, Chania(Souda), Athens(Piraeus)/GREECE,
Thessaloniki/GREECE, Kusadasi(Ephesus)/TURKEY, Crete, Santorini(Thira)/GREECE (Overnight),
Mykonos/GREECE (Overnight), Athens(Piraeus)/GREECE)
Inside: N/A
Oceanview: N/A
Junior Suite: N/A
Suite:
N/A

Celestyal Journey - 5 Nt. Greece
RT Athens
(Athens(Piraeus)/GREECE, Kotor/MONTENEGRO, Corfu/GREECE, Chania(Souda), Athens(Piraeus)/GREECE)
DATE
INSIDE
OCEANVIEW
JUNIOR
SUITE
SUITE
CALL
800-493-6609
or
BOOK IT NOW
04/01/24
$549 pp
$679 pp
$1189 pp
$1679 pp
11/04/24
$549 pp
$679 pp
$1189 pp
$1679 pp
10/19/24 Celestyal Journey - 28 Nt. Greece
RT Athens
(Athens(Piraeus)/GREECE, Cairo(Port Said)/EGYPT, Jerusalem(Ashdod)/ISRAEL, Limassol/CYPRUS,
Rhodes/GREECE, Kusadasi(Ephesus)/TURKEY, Athens(Piraeus)/GREECE, Santorini(Thira)/GREECE,
Rhodes/GREECE, Istanbul/TURKEY (Overnight), Chios/GREECE, Kos/GREECE, Mykonos/GREECE,
Athens(Piraeus)/GREECE, Kotor/MONTENEGRO , Corfu/GREECE, Chania(Souda), Athens(Piraeus)/GREECE,
Istanbul/TURKEY (Overnight), Mykonos/GREECE (Overnight), Kusadasi(Ephesus)/TURKEY, Rhodes/GREECE,
Santorini(Thira)/GREECE, Athens(Piraeus)/GREECE)
Inside: $2579 pp
Oceanview: $2839 pp
Junior Suite: $4779 pp
Suite:
N/A

10/26/24 Celestyal Journey - 21 Nt. Greece
RT Athens
(Athens(Piraeus)/GREECE, Santorini(Thira)/GREECE, Rhodes/GREECE, Istanbul/TURKEY (Overnight),
Chios/GREECE, Kos/GREECE, Mykonos/GREECE, Athens(Piraeus)/GREECE, Kotor/MONTENEGRO ,
Corfu/GREECE, Chania(Souda), Athens(Piraeus)/GREECE, Istanbul/TURKEY (Overnight), Mykonos/GREECE
(Overnight), Kusadasi(Ephesus)/TURKEY, Rhodes/GREECE, Santorini(Thira)/GREECE, Athens(Piraeus)/GREECE)
Inside: $1989 pp
Oceanview: $2199 pp
Junior Suite: $3709 pp
Suite:
N/A

11/04/24 Celestyal Journey - 12 Nt. Greece
RT Athens
(Athens(Piraeus)/GREECE, Kotor/MONTENEGRO , Corfu/GREECE, Chania(Souda), Athens(Piraeus)/GREECE,
Istanbul/TURKEY (Overnight), Mykonos/GREECE (Overnight), Kusadasi(Ephesus)/TURKEY, Rhodes/GREECE,
Santorini(Thira)/GREECE, Athens(Piraeus)/GREECE)
Inside: $1219 pp
Oceanview: $1359 pp
Junior Suite: $2379 pp
Suite:

N/A

Celestyal Journey - 7 Nt. Greece
RT Athens
(Athens(Piraeus)/GREECE, Istanbul/TURKEY (Overnight), Mykonos/GREECE (Overnight),
Kusadasi(Ephesus)/TURKEY, Rhodes/GREECE, Santorini(Thira)/GREECE, Athens(Piraeus)/GREECE)
DATE
INSIDE
OCEANVIEW
JUNIOR
SUITE
SUITE
CALL
800-493-6609
or
BOOK IT NOW
11/09/24
$ 679 pp
$ 879 pp
$1519 pp
$ 1959 pp
11/16/24
$ 679 pp
$ 879 pp
$1519 pp
$ 1959 pp
11/10/24 Celestyal Journey - 7 Nt. Greece
RT Istanbul
(Istanbul/TURKEY (Overnight), Mykonos/GREECE (Overnight), Kusadasi(Ephesus)/TURKEY,
Rhodes/GREECE, Santorini(Thira)/GREECE, Athens(Piraeus)/GREECE, Istanbul/TURKEY)
Inside: $679 pp
Oceanview: $879 pp
Junior Suite: $1519 pp
Suite:
$1959 pp

11/16/24 Celestyal Journey - 14 Nt. Greece
RT Athens
(Athens(Piraeus)/GREECE, Istanbul/TURKEY (Overnight), Mykonos/GREECE (Overnight),
Kusadasi(Ephesus)/TURKEY, Rhodes/GREECE, Santorini(Thira)/GREECE, Athens(Piraeus)/GREECE,
Cairo(Port Said)/EGYPT, Jerusalem(Ashdod)/ISRAEL, Limassol/CYPRUS, Rhodes/GREECE,
Kusadasi(Ephesus)/TURKEY, Athens(Piraeus)/GREECE)
Inside: $1919 pp
Oceanview: $2239 pp
Junior Suite: $3099 pp
Suite:
N/A

Celestyal Olympia
Celestyal Olympia - 4 Nt. Greece
RT Kusadasi
(Kusadasi(Ephesus)/TURKEY, Patmos/GREECE, Rhodes/GREECE, Crete,
Santorini(Thira)/GREECE, Mykonos/GREECE, Kusadasi(Ephesus)/TURKEY)
DATE
INSIDE
OCEANVIEW
JUNIOR
SUITE
SUITE
CALL
800-493-6609
or
BOOK IT NOW
04/02/24
$459 pp
$559 pp
$989 pp
$1379 pp
04/09/24
$459 pp
$559 pp
N/A
N/A
04/16/24
$459 pp
$559 pp
$989 pp
N/A
04/23/24
$559 pp
$669 pp
$989 pp
N/A
04/30/24
$459 pp
$559 pp
$989 pp
N/A
05/07/24
$619 pp
$669 pp
$989 pp
N/A
05/14/24
$619 pp
$669 pp
N/A
N/A
05/21/24
$559 pp
$669 pp
N/A
N/A
05/28/24
$559 pp
$669 pp
$989
N/A
06/04/24
$839 pp
$949 pp
N/A
N/A
06/11/24
$839 pp
$949 pp
$1249 pp
N/A
06/18/24
$839 pp
$949 pp
$1249 pp
N/A
06/25/24
$839 pp
$949 pp
$1249 pp
N/A
07/02/24
$669 pp
$769 pp
$989 pp
$1379 pp
07/09/24
$669 pp
$769 pp
$989 pp
N/A
07/16/24
$669 pp
$769 pp
$989 pp
$1379 pp
07/23/24
$669 pp
$769 pp
$989 pp
$1379 pp
07/30/24
$669 pp
$769 pp
$989 pp
$1379 pp
08/06/24
$459 pp
$559 pp
$989 pp
$1379 pp
08/13/24
$459 pp
$559 pp
$989 pp
$1379 pp
08/20/24
$459 pp
$559 pp
$989 pp
$1379 pp
08/27/24
$459 pp
$559 pp
$989 pp
$1379 pp
09/03/24
$839 pp
$949 pp
$1249 pp
$1549 pp
09/10/24
$839 pp
$949 pp
$1249 pp
N/A
09/17/24
$899 pp
$1029 pp
$1379 pp
$1959 pp
09/24/24
$899 pp
$1029 pp
$1379 pp
$1959 pp
10/01/24
$839 pp
$949 pp
$1249 pp
$1769 pp
10/08/24
$839 pp
$949 pp
$1249 pp
N/A
10/15/24
$839 pp
$949 pp
$1249 pp
$1549 pp
10/22/24
$669 pp
$769 pp
$989 pp
$1379 pp